Technical Details
Around concerts
406 m2 of seating place in the Concert Hall (900 seats) with a 183 m2 Stage and a 68 m2 Back Stage. The Orchestra Pit (51 m2) is located on a platform that can be raised to seating level creating 75 extra seats, or to stage level adding 50 m2 to the stage.
The smaller and more intimate BlackBox has a surface of 227 m2 and a maximum capacity of 599.
The 499 m2 Lobby and 70 m2 Lounge are overlooked by a 152 m2 indoor footbridge, our very own "Passerelle". A 150 m2 Champagne bar area is located at the garden level. For a cocktail under the stars, with a view on Lake Geneva and the Alps, a 179 m2 Roof Terrace is accessible when the weather permits it.
Finally, the 85 m2 Café is opened for a drink or a snack, and the 120 m2 Restaurant for a more solid dinner.
Restrooms can be found at all three levels, the largest are located on the Garden Level.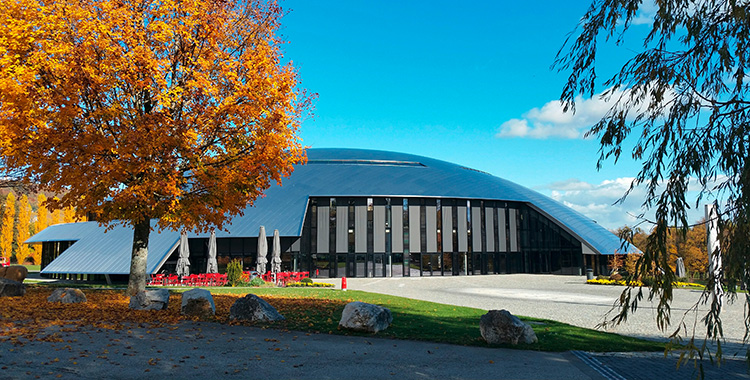 Facilities
The Paul & Henri Carnal Hall also holds a 230 m2 Library, two Art Rooms of 175 & 162 m2, a ceramic and glass workshop (11 m2) and a small 37 m2 workshop room. Students have 7 individual studios at their disposal to practice musical instruments, 2 piano rooms, 4 classrooms, a percussion room and a large 122 m2 Rehearsal Room.
Four Guest Rooms (21 m2) with en-suite bathrooms are available on the Garden Level.