Mission
Mission
We are all in agreement: leaders need to possess every possible personal and professional skill. But, as we see it, and more than ever before, they also need to be creative and imaginative, to be able to find solutions by thinking "out-of-the-box" and beyond the limits suffered or chosen by so many of those laden with diplomas.
The mission of the Paul and Henri Carnal Hall is to respond to this challenge. Its unique structure brings together three creative tools under a vast steel dome: culture, the arts, and communication.
Culture comes in the shape of the large 900-seat hall designed for conferences, theatre, musicals, concerts and anything else which can nourish students' cultural appetite. The first two seasons were remarkable:  Le Rosey had the great honour to welcome some of the world's finest artists to its campus: in October 2014, the Royal Philharmonic Orchestra conducted by Charles Dutoit  gave the inaugural concert, and this was followed by classical concerts which included the Saint Petersburg Philharmonic under Yuri Termirkanov, a recital by Hélène Grimaud, the return of Charles Dutoit and the RPO, and the extraordinary violinist, Maxim Vengerov.  The season also included theatrical productions, most notably Les Coquelicots des Tranchées, winner of a 2015 Molière.  Nor should we forget an annual children's concert, mixing humour and education, music, visual arts and drama.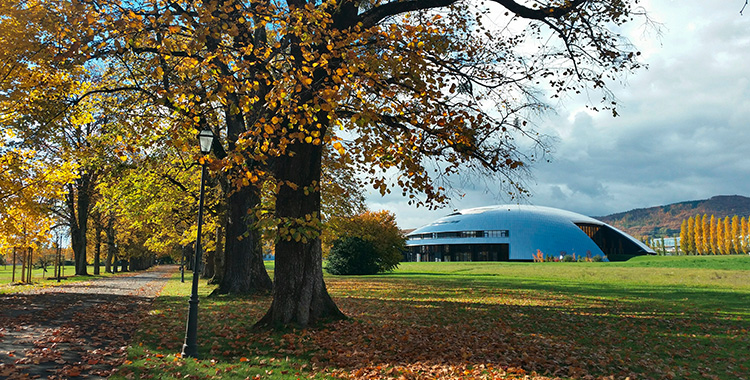 The arts are brought together in the facilties where Roséens will be able to develop all their talents: there will be music in the large choir and orchestra room, and 16 practice rooms, with four set aside for percussion, rock and jazz; the visual arts will have the run of five workshop areas for sculpture, photography, glass-making, pottery and fabrics, 3-D printers; drama will have its large "Black Box", and gastronomy its cookery school and teaching restaurant; and dance will also have its own special space.

At the centre of the Paul and Henri Carnal Hall will be the Learning Centre which will provide students with a workspace outside the walls of their traditional classroom, and where they will be able to undertake personal research, work in groups and meet teachers from varying curriculum areas all in the same place. A new educational model is emerging: it uses all the power of technology for research and all the wisdom of human beings for its effective use. The meetings that will take place in the Learning Centre will bring subjects to life, and enable them to combine fruitfully with other subjects as part of whole and wholly fascinating intellectual system.
The Paul and Henri Carnal Hall is not just a building at the heart of Rosey but a campus within a campus; its spaces have been ingeniously designed to open the mind, to stimulate the imagination and to provide the keys to the universal language that allows us to better understand people and societies. Rosey exceptionalism is here aimed clearly at educational innovation.