FAQ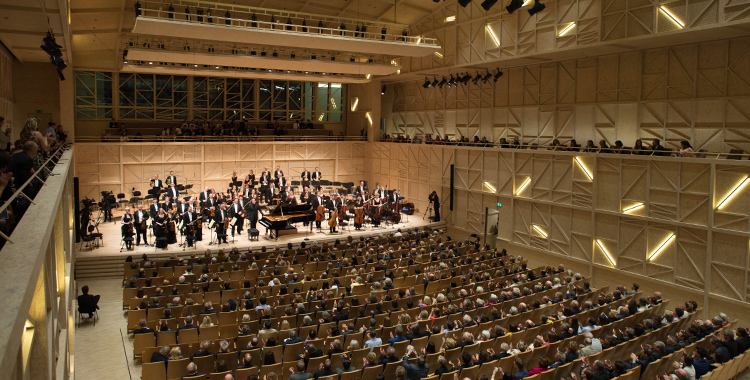 How can I get tickets?
Tickets will usually be available for purchase 2 months before each event. A web-link to Ticket Corner will appear on the page of the event on our web site. Tickets will also be available directly on Ticket Corner, as well as their usual points of sale including the Swiss post office. On some occasions, a few tickets may be available on the evening of the event at the Rosey Concert Hall for purchase on-site.
Can I choose my seat? (When buying tickets or season membership)
When purchasing your ticket, a seating map will be available for you to choose your seat according to the category you've chose and the places available.
When purchasing a season membership, you may only choose your category.
When should I arrive before the concert?
The entrance doors open at 7.00 pm, and the doors of the Rosey Concert Hall at 8.00 pm for all events starting at 8.15 pm.
Can I bring my son/daughter who is X years old?
Children 6 years old and above are welcome. Please also be aware that there is a half-price discount for those under 26.
Can I give the season membership as a gift to someone?
Yes, at the moment of completing the membership form, you may write the name of the person who will receive the gift. This person may then collect their season membership at the Rosey Concert Hall on the evening of the first event of the season.
What happens if I have a season membership and I can't come to one of the concerts?
You may lend your season membership to someone else for one event, noting that this person must be seated at the place reserved for you. If you know prior to the event that your place will be empty, kindly let us know so that we can avoid empty places.
What about meals and refreshments?
From 7.00 pm onwards the Café Ljubo, at the entrance of the building, will be open and will sell sandwiches, Paninis, pizzas and non-alcoholic drinks. Wine and champagne will be available at the Krug bar on the ground floor.
How can I pay for my tickets/season membership?
When purchasing your ticket online with Ticket Corner you will be able to pay by card, or in cash at the usual sales points. The tickets bought on site the evening of the event can also be puchased by card or in cash.
For the season memberships the payment is done via wire transfer as per the instructions given during the subscription process.